GAMERS!
Our new minigame is here, PETWARS!
Let's jump right in!
​
Players will start out on an island with unlimited lives, two farm generators, one pet, & one shop. The farms generate currency which can be used for building blocks, weapons, armor, team oriented advancements, and more!

There are four tiers of farms.

Wheat

,

Potato

,

Carrot

, &

Nether Wart

. Carrot and Nether Wart farms are on separate islands that you will have to bridge over to & try and take control of. Monopolizing every generator will give you a huge advantage over other players.

Your goal is to slay any enemy in your path along with slaying each and every one of your enemies pets. Think of the pet as the heart of the island, when the pet is dead, you will be put on your last life. That is when you will want to rush in and obliterate your enemy. Eventually

winning

the game!
​
To get started in a game, head to the hub and type /petwars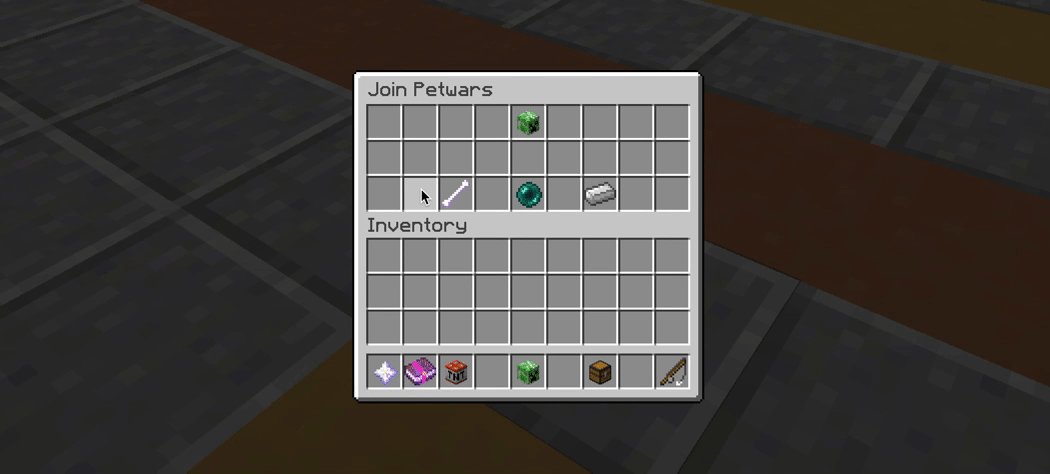 Want to play with a few friends? Maybe family? Use our party system!
Click here to submit any sort of fault/bug
Click here to visit the new Petwars forum section

Happy Slaying Gamers!


​
HAPPY EASTER GAMERS!
April 16th @ 1PM PST / 2PM MST / 3PM CST / 4PM EST / 9PM GMT / 5:30 AM ACST
How do I get there?
The Sonic Universe - /warp event
Time for an Easter Egg Hunt! Follow the golden trail and find hidden chests along the way. There will be a lot of people hunting these chests so make sure you're on top of your game, r
ewards can range from dirt to cash to store vouchers!


(expect to find some of these items)

This is a

safe

event + the

rules

of the

server

still apply to this event.
(so, try not to use x-ray or chest finder ツ)

HAPPY HUNTING GAMERS!
​
HEY GAMERS
BIG UPDATE COMING YOUR WAY! WELCOME SONIC!
YOUR NEW RETRO UNIVERSE!
Skyblock - Sonic Universe
How to get started on your island
/is to start an island
/is invite to invite friends to your island
/kit to access your kits
Bounty Hunter
Set and claim bounties on players for a zesty reward. Slay or be slayed. Do what you have to do!
Bartender
Become a drunkard and roll your chances with the Bartender, she also has a secret tavern below the bar...
The Top 10 System
Think of it as a small leaderboard system! Presenting and showing off our Top 10 Richest players & our Top 10 Highest Ranking Island players.
Ore Generator
This is a cool one, you know how the basic necessity on an island is a cobblestone generator, right? Well, Ore Generator gives a chance of the cobblestone turning into an ore!
Questing
An old soul went back in time to the Retro era. Fulfilling his duties, he travels across the lands to supply every Gamer with challenging and tedious tasks.

There are several types of quests that will force you to explore...
​
Hey Gamers!
We're hosting a parkour event this Saturday, April 8th!
2PM PST / 3PM MST / 4PM CST / 5PM EST / 10PM GMT / 6:30 AM ACST
This is a safe event! (except the lava lake that might get ya)
Everyone is welcome!
&

best

of all, there will be rewards to the

top 5 placing

players!
1st place: $25 Store voucher
2nd-5th place: $10 Store voucher
Keep in mind, if you cheat in the parkour or break any rules, you will be reprimanded accordingly.
Get out there and start hopping around for the big day!
​
Hey Retro Gamers!

It's time to Raid the Base!
Time & Date: March 19th @ 2PM PST / 3PM MST / 4PM CST / 5PM EST / 10PM GMT / 6:30AM ACST (March 20th)
Mario World

The event will last 6 hours, if no one raids the base within that amount of time, the event will be over and the base will be deleted. If a faction raids the base successfully and legally, the winning faction will receive whatever they loot within the base. The server rules are still the same, nothing has changed. Now, here's the catch, there will be multiple factions trying to raid the base all at once, so be on guard, as PVP is enabled!

THIS EVENT IS FOR EVERYONE!

Coordinates:
x:5555 / z:-5555
Base layer layout:


OBBY OBBY WATER WEBS AIR COBBLESTONE WATER



Update:


The winning faction is Wanted
Here is a sneak peek of the loot that is inside the base:
Now gear up, start designing your cannons, & get as many faction members on as possible!
See you there Gamers!
​
Hey guys, I'm SkillsAura, owner of ArkhamNetwork's PlugDJ.
We're now going to have a Global PlugDJ!
I'm here to announce that it will now be a global AGP PlugDJ. This community has its own rules, and is completely non-toxic.
I will also be hoping to have a few staff members from here to help ensure that our rules are followed. This community is very nice, calm, and as mentioned before non-toxic.
Can players be staff on it?
Yes! Some of our staff already are non-server staff. Staff can be server-staff, and players who've shown staff material in the room. Applications are via ArkhamNetwork's forums, feel free to apply there! If you're a server staff, contact me on Skype.
How will Events work?
Some events may have prizes on all networks, some may only include one. All events however are going to be open & advertise on all AGP servers.
Sweet! How do I connect?
Visit this link:
PlugDJ
Thanks guys,
~ SkillsAura
Hey there Gamers!
It's been a week since the new custom enchantments have been released on all of our worlds;
It's been a blast seeing them get put to use! We can't wait to show you what else is on the way!
If you missed our Custom Enchantment announcement, you can click here!
Now let's cut to what we're here for...
The Store Revamp!
We've felt like you guys have been very generous with your contributions for the previously mediocre perks, that's why we've decided it's about time to pay all of our amazing donors back with some killer perks! Thanks to all of you that support the Arcade Wars, this server wouldn't be here without you guys!

- Rank price changes
- Rank perk changes (for a full list of changes please visit the ranks section of the store)
- In-game money price changes
- Key Price changes
- Improved organization
- Improved item descriptions
& also a
kit
that allows you to call in a
freakin
'
Prize Drop!
WHAT?
Don't worry!

All previous donators

will receive these new perks!
(exempting the additional money, mcMMO tokens, and the addition of the Tier Keys)
Note: /fly has been removed from ALL RANKS

except:

Mario, PACMAN, & Metroid
But, don't worry! If you are one of those three ranks you can /givefly to a respected ally!

Now, let's introduce some of the more notable features with this...
​
Hey there Gamers!
Prize Drops have landed! Here is some information about this new feature:
​
They
randomly
appear throughout the day in the warzone (/warp
pvp
)
They
randomly
roll on either a Common, Rare or Legendary Tier
​
Common - 86% chance
Rare - 12% chance
Legendary - 2% chance​
Rewards
can range from Iron Armor to Bank Notes to even Spawners
​
You
MUST
be in a faction to capture any sort of Prize Drop. When capturing a Prize Drop only
you
and
your faction members
can be inside of the drop zone. If any
enemy
or
netrual
factions enter the drop zone, it will turn
contested
& the
progress
will
stop
. Only one faction can be inside the drop zone. When the progress bar reaches...
​
Hey Gamers!
​

Here's a little bit more information on the new custom enchants that were released earlier this week. There are four new legendary custom enchants uniquely made per universe, which in return will create a more enjoyable experience here on Arcade Wars! Roll your chances with the Crystal Crates and put the new enchants to work!
Another note, we re-opened the Helper Applications on the forums. You can apply here.
Notice: Any prior applications that were created before 2/21/2017 have been deleted.

Thanks for reading & we hope to see you Gamers on Arcade Wars!
Mario Universe
1UP:
Once you take enough damage to kill you, you will instantly have half of your health restored to you, to notify other gamers that this has happened, the Mario 1UP sound will be played and a 1UP shroom will be displayed over the user's head. (requires helmet)

Fire Flower:
Shoot a bouncing fireball just like in the game, the fireball's damage will increase the further it bounces, after 10 seconds the fireball will dissipate - it will also be put out if it comes into contact with water. (requires sword)
Super Star:
When you eat this apple, the super star music will begin to play for everyone around you, letting them know to watch out since you're about to bulldoze through them, this enchantment makes a great getaway item, or for knocking other gamers off of high areas. (requires enchanted golden apple)
Bullet Bill:
Mine with ease when you're an unstoppable Bullet Bill, no block will be able to stop you as you rocket through mountains (and hopefully not your own base)! (requires pickaxe)...
Hey there Arcaders!
Today is the release of the ArcadeWars server, which will be amazing! I'll be your Community Manager or Director!
Note that the server is in beta and that all bugs etc. will be fixed. There are also some features that haven't been added yet that we will be adding shortly after release.
ArcadeWars is a server with 3 faction servers which is all themed for each their amazing game. The 3 faction gamemodes we have now are Mario, Pacman and Metroid.
Notable features on the server are:
– Auctions (/ah)
– Envoys
– KOTH
– McMMO
– Mob Stacking
– Gambling Bar
– /shop
– /tntfill
– /tntcraft
– /ftop
– /withdraw
– 7 second combat timer
– 10 second enderpearl timer
– No Withers
– No Gapples / Hopper crafting
We will also be adding Custom Enchants shortly after release. After all features are added and bug-free, we will add even more new features!
The server is also playable from 1.7 to 1.11, which means you can use anything between that to join the server! The map is 1.7 too.
World Borders:
– Overworld: 20k
– Nether: 10k
– The End: 10k
Keep on following the website for more updates or changelogs to see what is fixed and/or added to the Network!
If you have any questions, you can post a thread under the Help section on the website, and a staff member should help you shortly!
Thanks for reading, Arcaders! I'll see you soon!
​